I, like most, have been searching for a cheap way to watch all of the television I want for nearly a decade now. Technology is making this more possible than ever, but no matter what you do, it's still difficult to keep your monthly payments low without making any compromises.
Chosing a Provider
The first thing you'll want to do is decide on a Cable or Satellite Dish provider. I went with DirecTV a few years ago. They have pretty decent customer service and for a sports fan like myself, they were the best value at the time. Dish has made some nice moves over the past year or two, but being a football fan, I really wanted NFL Sunday Ticket.
Technology!
Do not buy a separate receiver for each room of your house. I'll speak about why in the next two paragraphs. I have three rooms I frequently want to watch T.V. in, but I don't want the added monthly charges.
The second thing you'll want to do is invest in a SlingBox. For under $200, you'll be able to watch your television from anywhere in the world provided you have an internet connection. You might be wondering how this can save you money. I'll tell you in a minute.

Buy a Roku player for each additional room you want to watch television in. Roku has a SlingPlayer app that will act as a client. My extra televisions are in the 30-40 inch range so the basic 720p model is fine for me. Now you can watch T.V. in another room without a second receiver or cable box. The Roku SlingPlayer app will allow you to use your iPhone or Android device to change the channel. If you don't have a smart phone, an iPod touch or Nexus 7 should work just fine.
Note that only one device can be logged into SlingBox at a time, so watching television in three rooms at once won't be an option.
Negotiate
When my DirecTV contract expired, my bill shot up by about $20 per month. This was far more than I was willing to pay for television. I called and told customer service I wanted to cancel. The first person I spoke with attempted to convince me to switch to a cheaper package. Not an option - I needed the sports channels. After telling him I still wanted to cancel, he elevated my call.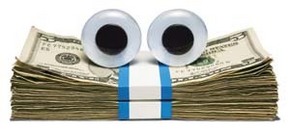 The next person I spoke with asked me how much I wanted to pay. I said "umm $30 per month would be nice." He put me on hold for a few minutes and came back with an offer of around $40 per month (this is with Sunday Ticket included which is around $60 per month alone on a payment plan). I hesitated for a few seconds, and just before I said "ok", the kind man threw in a $150 credit. These companies are very interested in keeping your business. Threatening to leave will keep them honest.